AIM AND SYLLABUS
The level is intended for those who already gained competence at A2+ or B1 level and want to acquire skills of more spontaneous communication. Lectures include the material intended for the Vantage (Intermediate Level 2 – B2) level:
grammar: gerund and foreign nouns; causal genitive, logical subject in dative case; participial and reflexive passive, aspect, adverbials, mood, conditional and relative clauses;
vocabulary: and drink, health, sports, jobs, travelling, traditions and beliefs;
communication: in a restaurant, at the doctor's, in a supermarket, on a journey.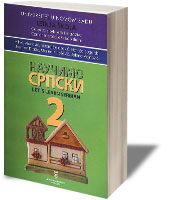 TEACHING MATERIAL Student's Book Naučimo srpski – Let's Learn Serbian 2, with the workbook and two CDs with listening exercises published by the Faculty of Philosophy and Dnevnik. The authors of the book are teachers at the Department of Serbian language and linguistics.
COURSE DURATION
| B2 | Per day | Per week | Winter semester | Spring semester |
| --- | --- | --- | --- | --- |
| Number of classes | 2 | 4 | 56 | 64 |
COURSE COST
| B2 | Number of weeks | Total number of classes | TOTAL AMOUNT PER SEMESTER |
| --- | --- | --- | --- |
| Winter semester | 14 | 56 | 26.400 RSD (224 €) |
| Spring semester | 16 | 64 | 30.200 RSD (256 €) |